UK Forestry and Natural Resources Extension has partnered with the Kentucky Forest Industries Association to provide educational offerings at the Kentucky Wood Expo in Lexington, Kentucky on September 20-21, 2019. These educational programs are designed for woodland owners, county extension agents, and anyone else who wants to learn more about forestry in Kentucky.
Small Scale Logging: Cutting and Moving Logs Using ATV's and Tractors on Saturday 9/2/19 from 10 AM until 12 PM. Learn about general practices and equipment demonstrations to safely and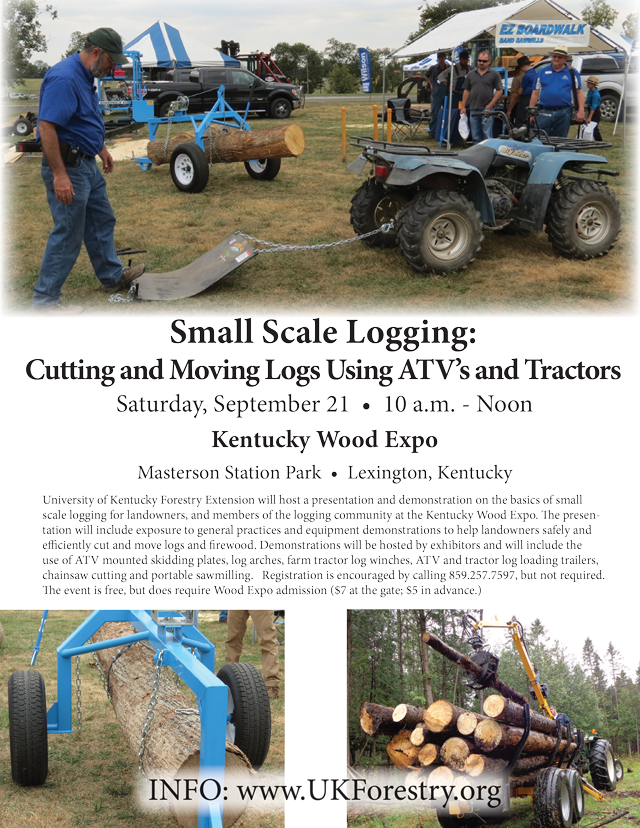 efficiently cut and move logs and firewood. Demonstrations will be hosted by exhibitors and will include the use of ATV mounted skidding plates, log arches, farm tractor log winches, ATV and tractor log loading trailers, chainsaw cutting and portable sawmilling.
Timber Economics program on Friday 9/20/19 from 10 AM until 2 PM. Learn how to find how much timber is worth, how woodlands can be managed for timber production, how to conduct a timber harvest and sale.
Invasive Plant Management on Friday 9/20/19 from 2 PM until 4 PM. Learn which invasive plants you should be on the lookout for, how to manage invasive plants, and more.
You can pre-register for the events by clicking the desired links above or by calling 859.257.7597.